Thanks to
Obnoxio
:
My Political Views
I am a center-right social libertarian
Right: 1.45, Libertarian: 5.7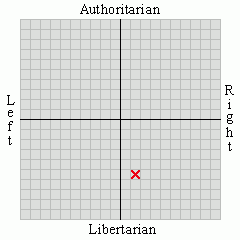 Political Spectrum Quiz
Seems reasonable to me - moderately right - because it fudges my more strongly right economic views with my less polarised social views - more strongly libertarian. Obviously, the American version of libertarianism wouldn't accept anything as socialist as a "Citizens' Basic Income" , so we can just leave them in the bunkers underneath their timber shacks in the boonies, - and there was no "flat tax" option.
My Foreign Policy Views
Score: -3.04

Political Spectrum Quiz
Yes, having served in the military, I am generally opposed to the military being sent to far flung paces in the world to kill and be killed
unless
there is an over-riding justification in terms of the preservation of British state interests (including the protection and evacuation of UK citizens) or, in some cases (Cyprus, Lebanon, Darfur?, Israel & Palestine?) an over-riding international community interest in separating warring factions or states.
My Culture War Stance
Score: -5.59

Political Spectrum Quiz
Why is there this weird American belief that "free speech", which they are generally so strongly in favour of, doesn't apply to art? Most arty types read, watch and enjoy stuff I find incomprehensible. Some of it (very little) I find offensive. As long as they don't force me to pay for it or waste my time having it rammed into my face, do I care?