As I do, intermittently, I've had another go at the "Political Compass" test. Today, I appear to be marginally more right-wing and a bit more libertarian than
previously.
My Political Views
I am a center-right social libertarian
Right: 1.53, Libertarian: 4.92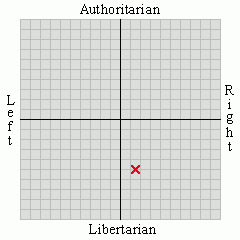 Or, 1.75 & 4.67, on a slightly different version.
Pretty much the same areas, pretty consistent with before.